This is the Art of Adz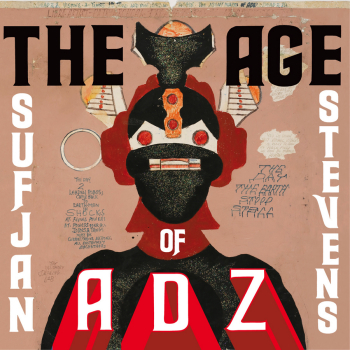 [Image courtesy of Asthmatic Kitty]
"This is going to be a very visually stimulating show, so I hope you all dropped some acid or smoked some pot before you came here tonight."
Sufjan Stevens – who was at the Orpheum Theatre November 11th and 12th rocking a futuristic outfit of multicolored streamers and some blindingly silver parachute pants – has come a long way from his awkwardly shy, flourishingly indie stage shows (complete with cheerleaders and kite wing costumes) of 2006. In the past three month, the man has released an hour-long EP, All Delighted People – which draws inspiration from Simon & Garfunkel's "Sound of Silence" – as well as an hour and a half long concept album, The Age of Adz (pronounced "odds") – about the apocalypse. Or heartbreak. Or the apocalypse of heartbreak. No one's really sure about that (and Sufjan definitely isn't the person to ask: "I confuse the end of the world with heartbreak, and heartbreak with the end of the world," he's said).
I had the rapturous pleasure of seeing good old Soof last Thursday, and while it should be obvious by now that I'll find any excuse to talk about music (and more than any excuse to talk about Sufjan), there's a bit more than his four-year musical transformation that makes Stevens worth posting about.
First of all, Louisiana-born artist Royal Robertson painted the cover art for The Age of Adz, pictured above. Robertson, who suffered from paranoid schizophrenia and died in 1997, saw himself as a prophet (identifying himself as "Libra Patriarch Prophet Lord Archbishop Apostle Visionary Mystic Psychic Saint Royal Robertson") and claimed he could foresee the end of days. His visions drove his painting, and most of his pieces have distinctly mythical/apocryphal subject matter. In a 10 minute long diatribe about Robertson's life, Sufjan explained how the artist's work influenced the electronic sound that he had been toying with for the past few years, after releasing the folktastic Illinoise in 2006, and The Avalanche shortly thereafter.
Seeing Robertson's paintings gave Sufjan the push that he needed. The sixth track on Adz, "Get Real Get Right," was written for Robertson. "With gratitude and love to Adell," reads the last line of text in the vinyl booklet for the album, for Robertson's wife Adell.
It is interesting to see artists making use of and showcasing the art world with their careers (see, my post on Kanye). Not to imply that this is a distinctly new phenomenon, but the application and contextualization of music through what is generally considered fine art is worth noting. In many ways, it seems as though it is necessary to understand the art of art in order to also understand the art of music. If Sufjan had not discovered Robertson's paintings, we may very well not have an Age of Adz at all.
As for the show itself (pictured below), Sufjan's performance combined the aural with the visual. Cartoon images of rockets and stars shook and spiraled past in the background while Sufjan and his 10 stage companions performed in neon leis and clothes. Just when the audience began to really get into the song (standing in seats, singing, and even dancing, which – as anyone who's been to the Orpheum can attest – is a feat) confetti rained down on us all.
And then balloons.
And then Sufjan & co. started throwing beach balls at us.
I've never experienced such bliss in my life.
Image courtesy of homedoll.
More artwork by Royal Robertson.
—Ariel Goldberg